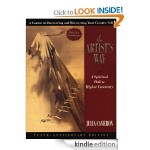 Yesterday, I talked a little bit about "The Artist's Way" by Julia Cameron. For those of you who aren't familiar with the book, it is a very intense instructional guide for recovering (or initially finding!) your creativity. Today, I'd like to provide a book review on this amazing work.
"The Artist's Way" was initially developed by Ms. Cameron as she was struggling with her own writer's block after a series of artistic "failures" that for a time pushed her away from her craft. She commenced with certain daily exercises that nursed her creativity back to health and eventually helped her to actively return to writing. She then began teaching classes and workshops inspired by her journey. Eventually, she compiled her notes into this book that for the past 20 years has been helping stuck individuals (such as yours truly!) reclaim their birthright of creativity.
When I first got serious about completing this journey (I had tried and quit about 5 times before), I thought that the work would help me with my writing. It actually didn't. What it DID do was help me figure out what I really wanted in my life. I really wanted to be a Brain State affiliate and transition from being a full time speech pathologist working for someone else to becoming a Brain Wave Optimization technologist working for myself in private practice. At the time it seemed like an impossible dream that would stay that way. Instead, I learned how to use my creativity to make my dream come true!
What's this? A book for artists that translates into having your own business?
You bet! Because creativity isn't limited to only words and paint…it actually shows up in everything we do if we allow it. Julia Cameron shows you how to do this.
Before embarking on "The Artist's Way" journey, consider the following:
• The book is intense. There are lots of exercises and assignments that you will be asked to complete throughout the course of each week. They are valuable. Do them.
• It will stretch you and ask you to get out of your comfort zone. Remember how we talked about how doing new things is uncomfortable because you are building new neural connections? Here's the opportunity to put that knowledge into practice.
• Do it with other people. A lovely lady I know, Debra Darpel Baker (owner of Healing Transformations), invited me to join her Artist's Way group that she was forming. I met so many lovely ladies through this group and I now consider them among my closest friends. Having an amazing group of people share the journey with me made it so much more fun. And, with their support, I was able to make The Brain Fitness and Training Center a reality.
The best part about "The Artist's Way" is that you continue to use what you learn long after the course is over. It lasts for 10 weeks, which is plenty of time to reinforce the new neural connections and solidify new habits. One of my favorite exercises is the "Artist Date", a weekly excursion, by yourself into your community to "fill up" your artistic well with new sensory information. For my group, the 10 weeks are long over, but we now engage in what we call "Artist Dares" where we go as a group to encounter new experiences in our community.
Do I recommend this book? Yes, and highly. If you want to recover your creativity, there is no better place to get started. You'll be surprised with you what you find!