ManDee Nogle, MS, CCC-SLP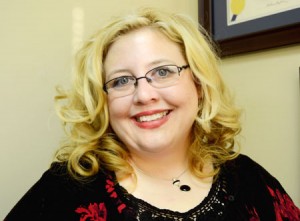 ManDee received her Bachelor of Arts from Wichita State University and her Master of Science in Communication Sciences and Disorders from Rockhurst University.  She has worked for over 10 years in both medical and school based settings as a speech language pathologist.
During her speech pathology career, ManDee specialized in diagnosing and treating cognitive linguistic disorders (breakdowns in language and thinking skills).  She enjoyed helping people improve their thinking abilities and return to independent living situations after suffering strokes or traumatic brain injuries.  She also spent a large portion of her career treating patients suffering from Alzheimer's disease and helping their families implement strategies to increase their independence while improving their quality of life.  Over time, ManDee became interested in learning how technology can help people struggling in these areas.
After personally experiencing the benefits of NeurOptimal® Dynamical Neurofeedback ™ in regard to her own struggles with Attention Deficit Disorder (ADD) and difficulties with sleep and anxiety, ManDee realized that brainwave training was the missing piece of the puzzle in helping people improve their brain health and overall cognition.
Realizing that she could help more people maintain their brain health by providing brainwave and cognitive training services to clients in the prime of their lives, ManDee decided to become a Certified Neuroptimal® provider and open The Brain Fitness and Training Center.   As a certified Life Coach, ManDee uses her knowledge of brain function and cognition to serve  clients interested in leveraging their brain to maximize their potential in career and areas of personal growth.
ManDee now enjoys helping a wide variety of clients who want to improve their overall well-being, meet their personal and professional goals, and live a happy, joyful life by taking care of their best asset: their brains.
Ruth Beezhold, MS, CCC-SLP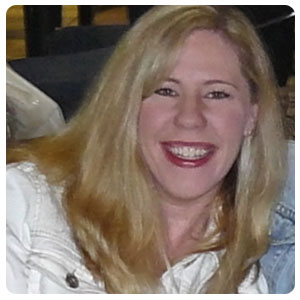 Ruth Beezhold received both her Bachelor's Degree in Linguistics and her Master's Degree in Communication Disorders and Science from Southern Illinois University.
She has been a practicing Speech-Language Pathologist since 1996 working with both children and adults in various settings, most recently using Brain Training. The majority of her clinical experience has been with adults with various neurogenic speech, language, cognitive and swallowing disorders. The main focus of her intervention includes brain stimulation exercises and training of compensatory strategies specific to the disorder, such as memory.
Ruth has always been fascinated by how the brain works and interested in ways to improve neurological functioning, which is what lead her to become involved with the Brain Fitness Training Center.
The Brain Fitness and Training Center
The Brain Fitness and Training Center serves the Greater Kansas City Metro Area, with its home office located in Belton, MO, a southern suburb of Kansas City, in the Bank of Belton building on Main Street.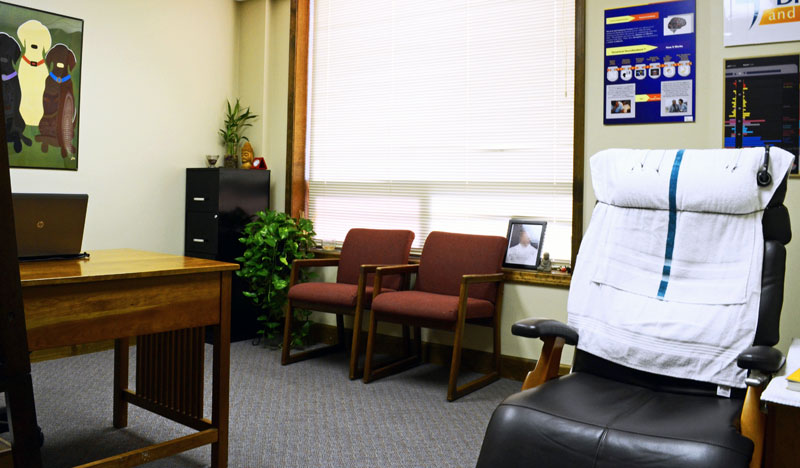 The Center serves a variety of clients in all age groups seeking improved attention, focus, memory, and sleep.  Many clients come to the Brain Fitness and Training Center due to their struggles with ADD, autism, and Asperger's Syndrome.  We are also available to serve clients who want to enhance and expedite their progress in traditional rehab following stroke and traumatic brain injury.  Upon completion, clients report improved performance at work and school.
Clients who use brainwave training in conjunction with traditional therapies for rehab, addictions, and mental health services report faster results and greater ability to follow through and complete recommended treatment programs.
Neuroptimal® Brain Spa is an ideal modality for clients wishing to enhance their ability to manage stress, engage in meditation, and enhance spiritual and creative practices. By quieting and balancing brainwaves, Neuroptimal® Brain Spa reduces the "interference" that often hampers an individual's ability to engage in these activities. By allowing both brain hemispheres to communicate more effectively,  Neuroptimal® Brain Spa enhances an individual's capacity to more effectively produce creative works.